Divers often have different preferences in diving, and buoyancy compensators are designed to reflect those. Since the criteria for evaluation is different, "best" for one group may not be the best for another. The purpose of this article is not to convince you of which approach to buoyancy control you should adopt, but more to evaluate the BCDs on what they are attempting to do within their individual design function.
In order to be fair, we have picked up four different designs, highlighted what they are attempting to do and then proceeded towards evaluating them. Every type of BCD is good for what it attempts to do, but within these designs, some models may offer better performance and value than the others.
Top Picks for Beginner BCDs
Jacket Style BCDs
These are the most popular among recreational divers around the world. They will have a wrap-around air-cell that goes around a divers body and their life-jacket like design enables them to behave very much like a life-vest on the surface. New divers are often not comfortable in the water and a recreational jacket will float them in an upright position on the surface.
This also makes them the preferred choice for instructors around the world. Not only do they prevent a new diver from feeling uncomfortable, they also allow instructors to have an easier face-to-face conversation on the surface. Furthermore, in order to pass a scuba certification, students are required to perform a series of underwater skills, such as removal and replacement of the BCD and jackets allow these skills to be performed easily.
If your goal is to certify a lot of people in the shortest possible time, then these jackets will achieve that. It is no wonder that rental inventories all over the world will mostly stock these styles and since a lot of divers get their initial training in these, they purchase this design as their first purchase as well. Here are a few jacket style BCDs that we recommend.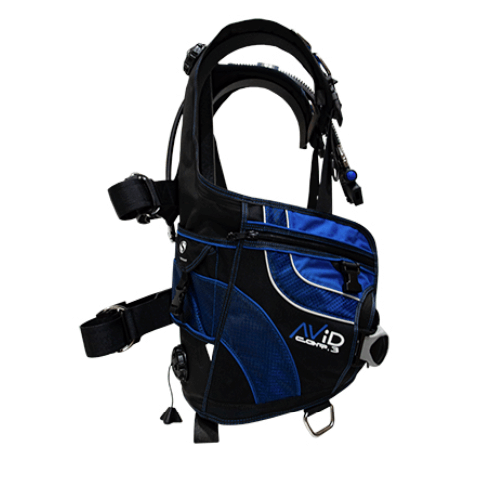 Our first recommendation would be Sherwood Avid CQR3. The manufacturer has attempted to make this comfortable for a liveaboard style, extended day of diving. Since divers will be getting up with heavy load on their back, the manufacturer has tried to make those moments easy by removing the stiff back support and replacing with and tried to provide a more of a padded cushion.
Pros:
Padded collar is intended to make it easy on the neck and shoulder area even when you are diving in a rashguard and do not have the cushioning of a wetsuit
Provides two tank straps to hold the tank instead of one, which results in added tank security
Cons:
As with all jacket style BCDs, the wrap around cell makes it difficult to remain in a horizontal trim position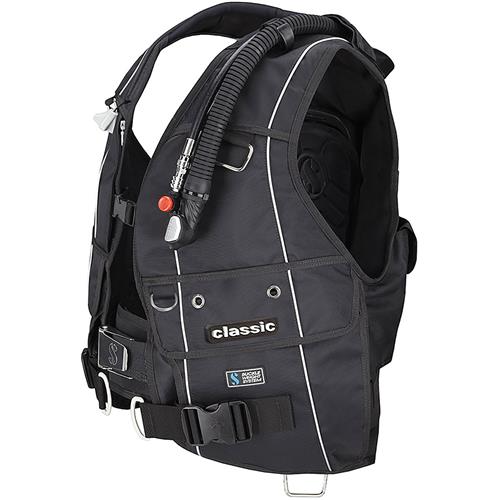 Scubapro has remained true to this traditional, tried and tested design that attempts to create a true wrap-around cell. The Classic distributed air around the body in a larger area and gives the diver an "inside the bubble" feel.
Pros:
As with all jacket style BCDs, the wrap around cell makes it difficult to remain in a horizontal trim position
Cons:
Since it is a true, wrap-around cell, proper fit is crucial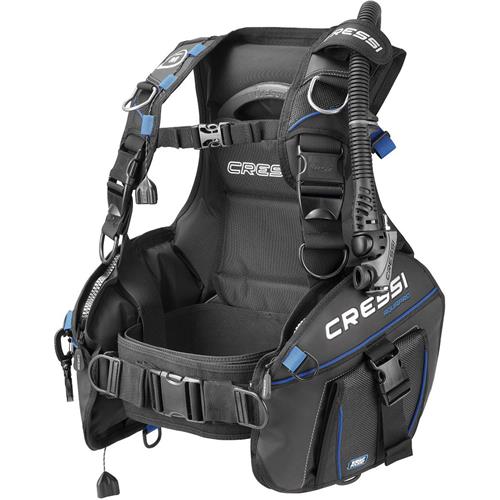 The Aquapro is a budget model that has the performance of some of the higher end and pricier models. The back support is hard and rigid, allowing the tank to remain stable but the inside is fully padded.
Pros:
This is one of the very few models that allow the weight to be dropped without losing the whole pocket
By eliminating bells and whistles and retaining function, Cressi has reduced the price considerably
Cons:
It comes with only two stainless steel D rings. The rest are plastic.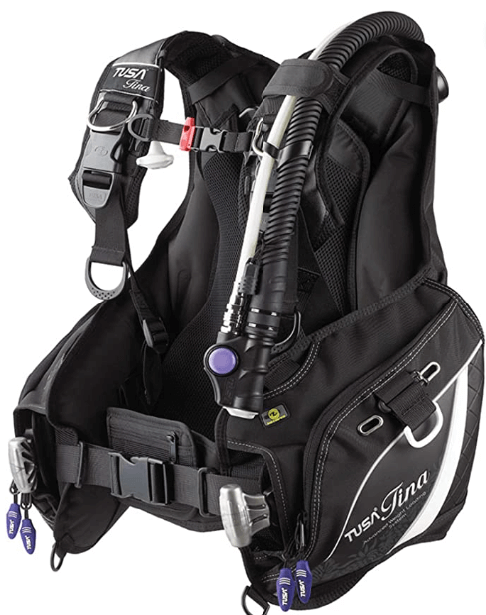 This is a popular design among women divers as it is one of the few designs that have been anatomically cut to fit the female body.
Pros:
The shorter profile and the high-cut waist is designed to allow a more natural fit in the waist and hip area
Movable D rings allow the divers to position them in a number of areas
Back padding is made of a quick drying material
Cons:
Tina is available in limited sizing
The largest size in its line up will accommodate a diver that should ideally be 5.10 in height but definitely no more than 6.2
Backplate and Wing BCDs
This is the set-up that is optimized for precision and stability underwater. It constitutes a flat air-cell that is bolted to a steel or aluminum plate. The aircell enables air to be distributed on a horizontal plane and the plate adds a certain amount of weight upwards on the divers back, thus making his or her weight belt lighter. The result is a diver who is stable in a horizontal position.
The challenge for recreational divers and their instructors, at least in the initial phase of the training, was the surface behavior of this set up. Recreational jackets were meant to position the diver upright and this made instructing much easier. Back-plates and wings, with students floating either at eye level or on their backs, made them less appealing to fresh, new students.
In spite of their superior performance at depth, this setup has struggled for its place in the recreational market. Things now seem to be changing and this configuration, which used to be the hallmark of technical and cave divers, is rapidly gaining popularity among recreational divers who are striving for performance buoyancy and a better horizontal trim.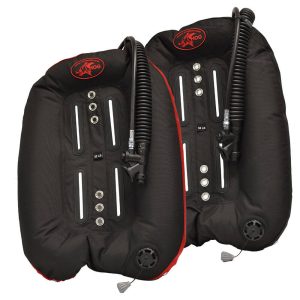 If you want a solid and reliable, tested and proven design, with no-nonsense and pure functionality, then Hog would be very difficult to beat.
Pros:
HOG Wing is built for simplicity and reliability
This is a company that works with tested and proven designs and does not attempt to reinvent the wheel
HOG's unique supply chain and business model allows high quality products to be distributed at a reasonably low price and this makes it hard to beat HOG in price vs value comparison
Cons:
D-rings on the weight pockets are positioned below the pocket instead of over it. If you intend to clip the stage bottle, then it would be clipped a bit lower than its ideal spot.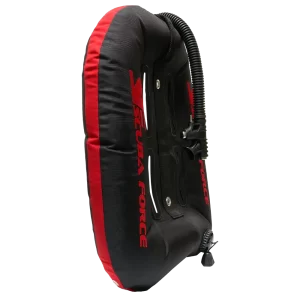 The Black Devil-mono wing offers 32 lbs of lift within a tough and streamlined wing with a well designed, inflator.
Pros:
This is a dual-shell wing that combines a textile inner bladder with an outer shell that is made of ballistic cordura. The result is a wing that not only inflates and deflates well but also offers protection
Scubaforce makes backplates in different lengths and weights and users can select the size and weight of the plate based on their own buoyancy and positioning requirements
Cons:
While HOG offers three grommet hole positions for the backplate, Black Devil only offers 2. You can not move the back plate up and down on this one
Back-Inflate BCDs
Back-inflate BCDs position the entire air-cell behind the divers back but without the solid back plate of a BP-wing set up. While they do not distribute part of the overall weight upwards along a divers back, which is one of the prime advantages of a backplate and wing, they do offer air-distribution in an alignment which is geared towards horizontal positioning of the diver when they are inflated.
These are less common than the jacket style BCDs, as they do not float the diver as high up as a jacket BCD. For this reason, not many resorts or dive shops will stock them in their rental inventory, which is mostly jacket style BCDs. If this is the route you wish to go then we can suggest the following.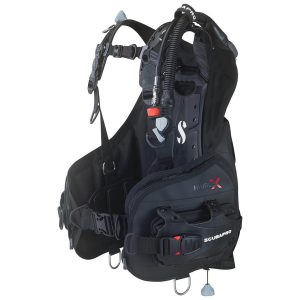 Scubapro has attempted to make a BCD of the future and this is apparent from the material from which the harness is made. Hydros X used a monprene thermoplastic harness and backplate which is not only wear resistant but also molds to conform to body shape.
The two zippered pockets are large and it comes with two stainless steel d rings for clipping accessories. The inflator hose is specifically designed with a bright red button which can be spotted in reduced visibility and the components that fit together to make this, are removable and replaceable. This increases the life of an already rugged BCD.
Pros:
This one of the few BCDs that is available in different anatomical cuts for both men and women
Its monoprene thermoplastic material is neutrally buoyant. It is light after the dive and the material is quick to dry
Cons:
Price! This is one of the higher priced BCDs on the market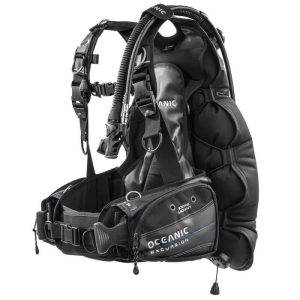 If you are looking for a robust and reliable, back inflate that boasts less but delivers more then the Excursion may be worth considering.
Pros:
The uncluttered and streamlined design offers good freedom of movement without compromising stability
Price! It is priced as a mid-range BCD but offers quality above its price
Cons:
Inflator button is slightly different and less instinctive. It may require a little getting used to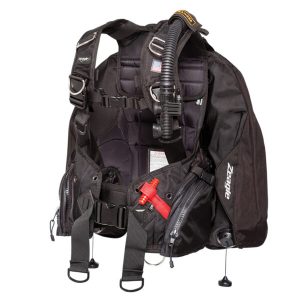 The ranger has been one of the most popular models in the history of back inflate designs and has maintained that popularity till now. It was the first BCD that brought together weight integration with back inflate in a very heavy duty construction and went on to become one of the most imitated designs.
Pros:
Durability! The Ranger is made out of 1050 Denier Ballistic nylon which is known for its durability. It is tough and robust and can be used in a variety of diving conditions
Cons:
The wing size is too large for single tank diving and may prove to be unstable on smaller built individuals
Travel BCDs
What exactly is a travel BCD and since most diving around the world happens on travel, why would you need a different BCD when you travel? Some people prefer to pack light when they travel and, in order to cater to the needs of this crowd, some manufacturers have attempted to build lighter models that pack easy.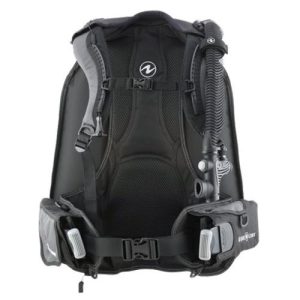 Zuma has no steel D rings and that has reduced its weight and bulk considerably. Since it has a fabric-like feel to it, it can be packed or rolled.
Pros:
Cons:
It has no shoulder D rings. Not even plastic ones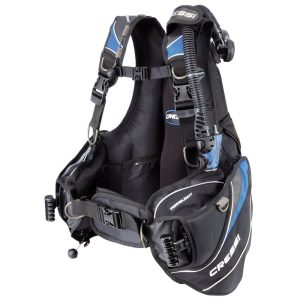 If you could have one BCD that would pack light but also have enough to it to be used as your primary BCD then it would be this one. The 420/210 Denier Nylon is durable and yet light and the D rings are made of lighter alloys.
Pros:
It attempts to offer a light BCD without compromising any of the expected features like durability and D-rings
Its price makes it a budget BCD but the value it offers is greater for the price
Cons:
While the material it is made of is tough, there have been reports of stitching coming apart after long and extended use
Hybrid BCDs
Jackets offer better stability when floating on the surface while back inflates and wings offer better positioning underwater. Hybrid BCDs are an attempt to combine both advantages into the same design.
They do so by distributing most of the air in the back and will also have wrap-around air cells which hold a limited amount. The design is an attempt to give you a flat trim underwater while not pushing your face in the water when you are on the surface.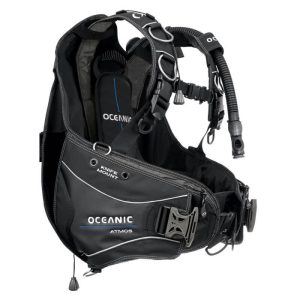 Atmos is a rugged and well designed Hybrid that uses its air shifting cells in an attempt to distribute air so that you are positioned properly, both at depth and as surface. This BCD has 20 lbs of weight carrying capacity in the pinch and release system and divers can carry another 10 lbs in trim pocket as non-ditchable.
Pros:
Oceanic Atmos has a depth compensating cummerband that offers a tight and comfortable, snug fit
Areas generally vulnerable to wear and tear are constructed out of 1000 D Denier Cordura which adds to durability without making the unit unnecessarily heavy
Cons:
This is one of the BCDs that could have benefitted from dual instead of single tank bands but the manufacturer has provided a single one. If another tank band could have been attached, it would have added security to the tank as well as giving the diver greater tank stability
A lot of instructors prefer this one as it attempts to float you high enough in the water to allow for a relatively vertical floating experience, while at depth, it behaves like a wing.
Pros:
The depths compensating cummerband offers a snug fit
Price! Hog has managed to produce a higher end BCD at an entry level price
Cons:
Surface flotation profile is comfortably high, but not as upright as many divers would want
How to Choose the Best BCD as a Beginner?
When it comes to BCDs, there are different design elements attempting to accomplish different goals in the water. There are those designs out there that are trying to make divers secure and stable on the surface while also giving them a decent, underwater experience. For many recreational divers, this sequence of priorities will remain consistent throughout their diving and thus the jacket will remain their style of choice.
Then there is the other extreme. These are divers who are striving for underwater precision and maintaining a horizontal precision. Their configuration is optimized to achieve that while compromising on surface flotation. After that, comes everything in between that tries to be in both camps with varying degrees of success.
3 Tips for Buying Your First BCD
These are three tips on how to go about making your first BCD purchase if you are a beginner.
Do not Overspend on Your First BCD
Getting certified in diving brings a deep sense of accomplishment and newly certified divers want to reward themselves with a mighty purchase! The problem is that they do not understand what kind of dives they would be doing a year later and in which direction their preferences would evolve.
It would be wise to not overspend on the first BCD and acquire it with the mind that you will be outgrowing it very soon. After a year into diving, if you find yourself striving for precision buoyancy then you can invest in a backplate and wing while if you are a vacation diver who dives once in a while and that also on tropical vacations and you prefer surface flotation then a more enhanced jacket may be the way to go.
Choose a BCD According to Your Needs
If you know from the very beginning that you will be doing serious dives such as wreck, cavern, cold water drysuit etc. then it is best that your first BCD be a backplate and wing. If you ever look at divers who are doing serious dives such as caves, wrecks and decompression, you will see that they will be in backplate and wing. All else disappears when dives get serious.
It will be hard to find an instructor who will conduct open water training in these and chances are that you will have to purchase the set up to be trained in it. However, if you could find an instructor who dives in this and is able to conduct your open water training, then this set-up will get you ahead much earlier.
Choose Function over Fashion
Yes people want to look cool. We get it and so do the designers of BCDs. The truth is that the more training and experience you get, the less bells and whistles you need. When manufacturers design something for the new diver, they make decisions for him or her.
Many new divers will be overweighted and that creates the need to make BCDs with a lot more lift than what a properly weighted diver would need. Many will not be able to vent from the corrugated hose or the dump valve and that creates the need for shoulder dump.
As you add experience to the diver, a lot of these bells and whistles will start disappearing as a lot of it is there to compensate for initial incompetence. As you grow into diving, a lot of that gadgetry that makes you look like a transformer robot, will start vanishing. This is why when you look at the configuration of elite cave and technical divers, it is a piece of continuous webbing with two shoulder D rings and another one or two on the waist.
Conclusion
The purpose of a buoyancy compensator is just that, to compensate for the lost buoyancy at depth. If every BCD was configured for just purpose and that alone, then all other varieties would disappear and you would have a backplate and wing. When these are also used as life-vests or surface flotation jackets, then we begin to deviate from its initial most optimum design.
Different designs chase different diver preferences. Jackets remain the most popular because every diver begins by floating on the surface before venturing deep, and if you do not make those initial moments pleasurable then people may not take up this hobby.
Once you are in it, your priorities may change and different designs out there reflect a diver's changing priorities.
In order to select the right BCD, you must understand what each design is attempting to do, where you are in your diving and where you intend to be.
Good luck!