If we were to make a list of top diving states in the US, then those would be California, Florida, New York, Texas, Virginia, Maryland and DC. Besides the first two, diving populations in all others do not have access to crystal clear, blue waters and frequently travel to far off destinations to dive.
Thus diving and travel must merge together for a very large demographic, and this has created the need for travel-friendly diving gear. Manufacturers have tried their best to minimize the size and weight of their products without compromising on their efficiency but it is always a balancing act.
I like to be honest with my readers. If you were to select equipment purely for underwater efficiency, as well as long term durability, then that would not be what you would select for travel convenience. Nevertheless, there is some travel gear that is better than other in the same category and. In this article we will list the best travel BCDs along with advantages and disadvantages of each product.
Best Picks for Travel BCDs
---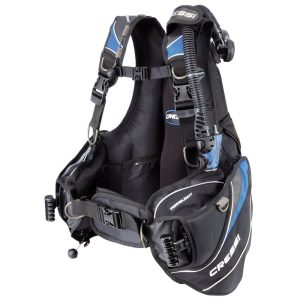 When it comes to travel BCD's, the travelight remains one of the most talked about BCDs as it attempts to embrace the concept of a travel BCD without losing much of the functions of a regular one. This is one of the BCDs that is available in a male and a female version and both anatomical cuts are designed to hug the diver very close. When it comes to travel BCDs, the Cressi travelight holds a significant market out there.
Pros:
The manufacturer has used a lighter alloy to make its D rings durable and light at the same time
It can fold into a very small space and fit into a small bag
Cons:
It is made of 210 denier nylon which is one of the lowest density fabrics out there. Its lightweight, compactness and folding ability comes at the cost of long term durability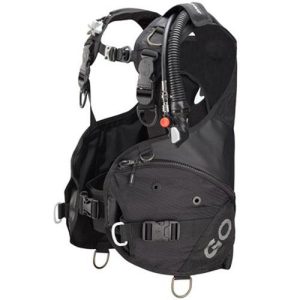 Scubapro is one of the giants in BCD designs and revolutionized buoyancy control around forty years ago by designing the first "stab" jacket." This design from Scubapro shows that the company has remained true to its tradition of innovations by finding creative ways of reducing weight and bulk.
They have used a fine mesh fabric for its cummerband, which is not only quick to dry but also very fine and light weight. Secondly the air-net padded back padding used, provides back support without adding significant bulk in the back area. Scubapro Go gives its users six aluminum D rings, two which are prebent to allow ease of clipping.
The result is a BCD that offers the feel and buoyancy behavior of a general purpose BCD but can be folded into its small and compact bag for ease of travel.
Pros:
Water draining air-net at the back and the mesh fabric in the front does not allow the BCD to retain a lot of water in the fabric and also causes it to dry much faster. This means that the post-dive weight of the BCD would be much less than most others in the market as it holds very little water when you pack it for your return trip
Cons:
The manufacturer has used 210 denier nylon fabric, which is as low as you can go in terms of fabric density. In order to compensate for the lack of durability and ruggedness, they have quoted the outside with polyurethane. While this may theoretically add some additional protection against an accidental puncture, the underlying fabric is still a fine 210 denier
Be gentle and it should serve you well.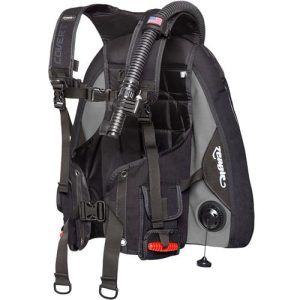 Zeagle is one company that developed the concept of weight integration and since they design gear for military, commercial and emergency response divers, durability is something they do not want to compromise on, even for their travel BCD.
They have stayed away from lighter denier fabrics and attempted to reduce bulk while making their BCD out of the commonly used 1000 denier fabric. If you are the diver who enjoys the unrestricted freedom of a back inflate design, then you will enjoy the feel of Covert.
The bladder is covered with an elastic fabric which keeps the aircell tight and compact, but when you inflate it, it will stretch to allow the bladder to expand and achieve a full 32 lbs lift. This design has enabled Zeagle to pack a higher lift capacity into a smaller overall package and this, coupled with its super light shoulder pads, offers a lot of value in a relatively smaller package.
Pros:
The Covert is one of the most durable and rugged BCD in the travel BCDs market. With a dry weight of approximately 4 lbs, it is also one of the lightest
Cons:
All travel BCDs are a compromise of one thing or another. Zeagle Covert has retained its rugged durability by compromising its accessory loading capacity. It does not come with any storage pockets and you may find the plastic d rings insufficient. But, if you wish to prioritize durability over accessories, then this one would be very hard to beat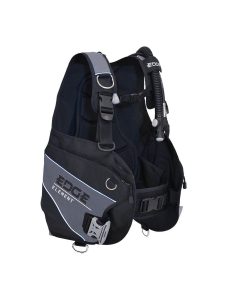 There are BCDs out there that are never advertised or marketed as "travel" BCDs, but their light weight and compactness make them ideal for it. The Element by Edge falls in this category. It is made of 420 denier nylon, which is a higher rating than the travel BCDs that are stitched out of the 210. But it is still lighter than 1000 denier fabric that a lot of manufacturers select for their general purpose BCDs.
The result is a general purpose BCD that is tougher than the lightest BCDs and the same weight as many travel BCDs that are made of the 1000 denier materials.
Pros:
Provides a good balance of light weight and durability
Its simple design makes it easy to use and its lay-flat design makes it easy to travel with
Cons:
This is not a BCD that you can fold all the way as it does offer a bit of a back cushion as well as a carrying handle with a little bit of a rigid tank support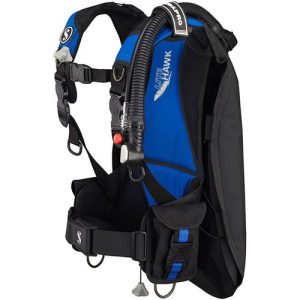 This is another BCD that uses 420 denier nylon, which gives it a durability advantage over some of the other models made of 210 denier fabric. The manufacturer has removed a lot of backpadding and support, and added an upper support strap over the primary tank band. This makes the tank a little more stable on your back than if it was a single tank strap holding the tank against your back with not much support in between.
Pros:
Scubapro is relatively more durable than other lighter BCDs due to the choice of 420 denier fabric. It also gives you four aluminum D rings, which are lighter than stainless steel and more reliable than plastic ones
While giving you all of these, the weight of this BCD is only ~5 lbs
Cons:
Price! This is a very solid product, but pricey. Having said that, it is very unlikely that anyone who buys the LikeHawk for travel purposes would be disappointed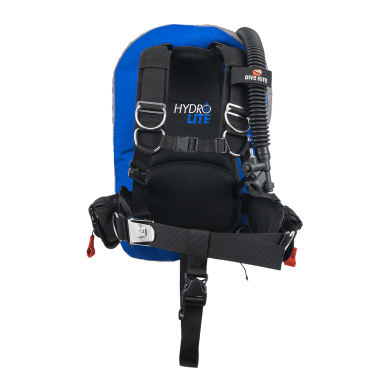 Those of you who like "techy" design will definitely appreciate the design of DiveRite's Hydro Lite. It has a 210 denier nylon inner bladder that is under a 600 denier polyester outer shell, making it an extremely durable set up without a lot of weight.
Technical or tech-oriented divers, who prefer a backplate will feel at home with this set up as it is wing design that is built on a technical soft-plate.The whole set up only weighs 6.2 lbs, which is amazing considering that this is a backplate and wing design with integrated weight pockets and D rings.
Pros:
The biggest advantage of this set-up is its streamlined design. It gives you a good 30 lbs of lift, which is sufficient for most of the single tank diving, in a backplate and wing setup that is very light
Secondly, the nylon aircell inside a 600 denier polyester outer shell gives it long term durability without adding bulk
Cons:
The first con would be the price. This is one of the higher end systems out there and if you are looking for a travel BCD that is a budget friendly set up, then this is not it
The backplate and wing design requires orientation, preferably in a swimming pool session before you can fully enjoy it. If you have trained on jacket style BCDs, then getting oriented with it in a controlled environment is strongly recommended.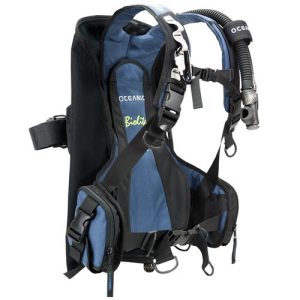 This is another one in the lighter weight category class. The Oceanic BioLite has used 1000 denier cordura but rather selectively, in the most crucial areas. This reduces the overall dry weight of the BCD to 5.5 lbs, while offering stronger reinforcement only where it matters.
The Biolite is a popular BCD with women and the company acknowledged it by putting pink accents in the women's model. Not only is the BCD anatomically cut, but is also made of a patented bioflex material that can stretch to conform to your body type. This feature enables the BCD to be worn slightly tighter, giving it a "part of your own body" type feel.
Pros:
The BCD is light lightweight, without durability being compromised much but you may also be impressed with its low profile back support. This makes it very easy to fold in half for travel
The stretch material provides a tighter fit without much squeeze and the model has established a good following among women divers
Cons:
If you are an accessory-loaded diver, then this may not be for you. It lacks D-rings and storage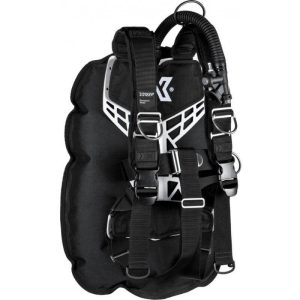 Another backplate and wing set up for the techies. If you prefer a solid plate without padding, and a flat low profile wing, then X-Deep's NX Deluxe Ghost will surely catch your attention. In most backplate and wing systems, the plate itself would normally weigh from 2 to 5 lbs but not in this one. The entire system is around 5.5 lbs in dry weight!
The most central aspect of this design is the backplate, which has been totally reinvented from its original, classical design. NX series backplates have hollow panels cut into them and that reduces the overall weight of the plate without the use of compromised materials.The plate is also cut with a better anatomical distribution of weight and many divers report a better and effortless horizontal position. Manufacturer has also added quick release to the shoulder straps to allow ease of getting in and out of it.
Pros:
For the diver with technical diving preferences, this system will enable them to transport their whole diving philosophy, with less bulk and weight. When you jump in the water, you may not notice that much of a difference between your home set up and your travel rig
It has taken some serious engineering to bring it all in a package that is around 5.5 lbs in weight
This setup also makes it possible to disassemble different components of the system for packing, and then assemble them at destination but given the already compact nature of the package, this may not be necessary
Cons:
The quick release in the shoulders is a potential failure point. One of the things that makes the Hogarthian DIR configuration so popular is the one piece continuous webbing that runs throughout with no connectors. It offers uncompromising reliability as there is nothing there to break. If there was one thing we would change in this set up, it would be that one piece continuous webbing for the quick release is a potential failure point in what is otherwise a very well designed set up
---
How to Choose the Best Travel BCD?
For the most part, Travel BCD is a regular BCD, minus as much as a BCD can do without. The manufacturer has tried to reduce a lot of things to make it lighter. A few areas or compromises may need particular attention here.
Also Read: Best BCDs for Beginners
Pay Attention to The Backpadding
Most BCD's have a padded or hard back where the outside is solid so that your tank can be strapped to it and the inside is padded to provide back comfort. This is what prevents a BCD from folding, for everything else in the BCD is fabric.
In order to make your travel BCD foldable, the manufacturer has either completely removed the padding or reduced it. This means that the tank has less to rest against and, in some designs, you may actually be able to feel the tank on your back. In a zero gravity environment, this is not necessarily uncomfortable but tank stability is something to consider when selecting a travel BCD.
Compromise on D-rings
Manufacturers have tried hard to reduce overall weight and one way to achieve that is to reduce the metal D rings, and/or replace them with smaller ones that are often made up of lighter materials.
If you are the diver who likes to attach accessories, such as cameras, scooters, or stage bottles, then this is one area to pay close attention to because this is where the compromise has been made in order to keep your luggage lighter.
Choose the Right Fabric
If you are going to invest into a travel BCD, then it may be wise to familiarize yourself with the Denier ratings of the fabric being used. Your BCD fabric is made up of many threads and the denier rating refers to the weight and thickness of each individual thread.
Generally speaking, the higher the denier rating, the heavier and more durable the fabric. One of the more common materials used in BCDs is 1000 D nylon while some of the higher end technical diving wings are made of 1680 D nylon.
In order to make a travel friendly wing, some manufacturers have used fabric as thin as 210. While this reduces the overall bulk of the BCD, durability is also reduced due to this.
Conclusion
Selecting a travel BCD is very much about what compromises you are willing to accept in your gear. Lower denier rating fabric reduces bulk but compromises durability and ruggedness. Smaller D rings made up of lighter materials are not as convenient underwater, especially if you are diving with gloves and your tank is no longer attached to a surface as hard.
But, if you are trying to make your luggage lighter, then this is what you will have to live with. If you must invest in a travel BCD, make sure that it is used only for that. While it may be able to withstand occasional abuse that diving puts on it, it is light for a reason.
The last thing I want is to be on a liveaboard, in a far off location, only to realize that BCD fabric got torn.
Dive safe!