There was a time when diving was completely dependent upon dive tables. Bottom times were short and dives were carefully planned to the second. Then dive computers came and multi-level diving in its true sense, became possible. It was a revolution! Bottom times were increased since unlike a dive table that assumes a square profile, nitrogen loading was being calculated and adjusted in real time for depth changes.
Since then, computers have gone from being a luxury item to somewhat of a mandatory one. Agencies such as SDI state that all divers from their very Open Water level, be trained on the use of dive computers and there are many dive resorts, liveaboards and dive operations that make it mandatory for their customers to be diving with computers.
Dive computers have evolved considerably from the time they were introduced till now. In that regard they are not that different from our cell phones. We are trying to incorporate more and more functions into them. There was a time when your compass, pressure gauge, log book would be three separate items but modern computers have tried to integrate all of these into a small unit and also added more features. `
But our expectations from a dive computer have also evolved and dive computer manufacturers are constantly trying to determine what their customers need and how their computers could do them. As a result of that, we have a market for dive computers that is constantly growing and extremely diverse. The purpose of this write up is to have a closer look at a number of options available to the recreational diver so that they can select the right tool for the right job.
Top 7 Picks for Dive Computers
---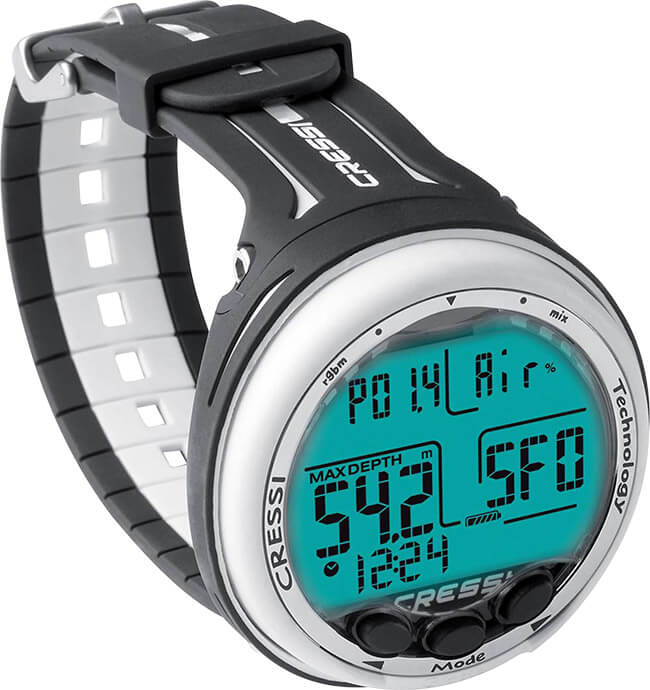 If you want a dive computer that will do the job, and still leave you with enough funds to actually go diving, then Cressi Giotto may be the one for you. While holding it and browsing through its functions, you can tell that Cressi has done all that they could to give you a reliable and easy to read computer at a very cheap price.
In the budget computers category, Cressi Giotto would be hard to beat. It is only a little more expensive than its cousin Cressi Leonardo, but allows you to to run it using three buttons instead of one. Its display is easy to read and you can turn on the backlight for low vis and night diving conditions. You can also do altitude adjustments to it for up to 3700 meters altitude.
Cressi Giotto delivers a lot for a budget dive computer and therefore holds our vote for the best "budget" dive computer.
What constitutes an ideal decompression schedule is not something that is agreed upon. As you ascend from the dive, where exactly should you be making your first stop? Conventional dive computers and algorithms will take you to a stop depth of 15 to 20 feet but there are experts who believe that you will decompress better if you do a stop deeper than your first stop depth and then ascend to the second stop.
The merits and demerits of this are still being debated but if you adhere to the view of dividing your safety stop into two, instead of one, then Giotto will do that for you.
Pros:
Low Price
Easy to navigate
Cons:
Runs on the RGMB algorithm (read more on this below)
What is Reduced Gradient Bubble Model?
Giotto runs the "Reduced Gradient Bubble Model" algorithm that was developed by Bruce Weinke. The algorithm was a dual phase model, meaning on deeper dives, it would generate stops deeper than dissolved gas models, in order to control any theoretic bubbles that would normally exist in a diver even when they had not crossed their no decompression limit or M-value line.
These stops came to be known as "deep stops" and divers were modifying their ascents to stop deeper in order to address pre-existing bubbles. Then, the US Navy did a study on deep stops and a few other studies were done and it turned out that while the premise behind bubble models was scientifically correct, the stops they generated on deeper technical dives were a bit too deep to be productive.
Most of the technical diving community moved away from bubble models such as RGBM and VPM but recreational computers will still run this algorithm, often with modifications from the manufacturer. Apparently the deviations that exist between more commonly accepted dissolved gas models such as Buhlmann Algorithm and RGBM are not as far apart in recreational diving where one would be significantly more beneficial than the other.
This is why many dives are done around the world on RGBM. Nevertheless, there are many divers who prefer Buhlmann Algorithm over RGBM and modern scientific thought is more towards that as well.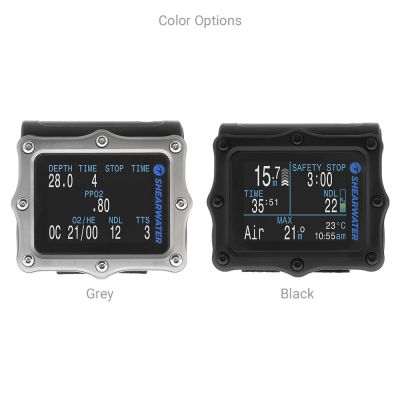 One of the advantages of a computer was that it liberated us from rigidity of tables and made our recreational diving more spontaneous. This aspect of it goes against the very fabric of technical divers' mindset, who believes in calculating exact bottom times and ascent schedules before jumping in.
If everything has already been calculated and you are diving within a plan, then what good would be a dive computer? Its spontaneity would not be of the same benefit on those dives as it may be in recreational diving. For this reason alone, technical divers have been a little late in embracing the dive computer but today, most technical divers have come to terms with a dive computer and dive with it.
In order to grade a technical diving computer, the criteria must be a different one. Technical divers have studied enough decompression where they understand the assumptions behind various decompression algorithms. In recreational diving, the manufacturer has selected the algorithm and conservatism but in the technical diving market, you would need a computer that would allow the diver to select their own algorithm.
Shearwater's Perdix is probably the most desirable technical diving computer, and one of the reasons is that while it runs the more popular Buhlmann ZHL-16 algorithm, it will allow the user to upgrade to run a VPM (Varying Permeability Model) if they so desire. Technical divers also want to bend the algorithm to accommodate scientific developments that happened after the algorithm was developed. Shearwater Perdix allows the user to modify and add conservatism to the Buhlmann ZHL 16 with gradient factors.
But in the end, there is one thing that makes a technical diving computer your best friend or your foe and that is the ease of gas switching. For a decompression diver, the gas switch is the most crucial part of the dive and they are switching gasses in mid water column, maintaining precision buoyancy. They want a computer that would quickly toggle from one gas to the next without a complicated menu of selections. Shearwater Perdix minimizes that workload during gas switches.
Pros:
Perdix is a beast. It has taken some of the most complex aspects of executing a technical dive and made it easy and user friendly
Cons:
It only comes with the Buhlmann Algorithm out of the box. VPM upgrade must be acquired separately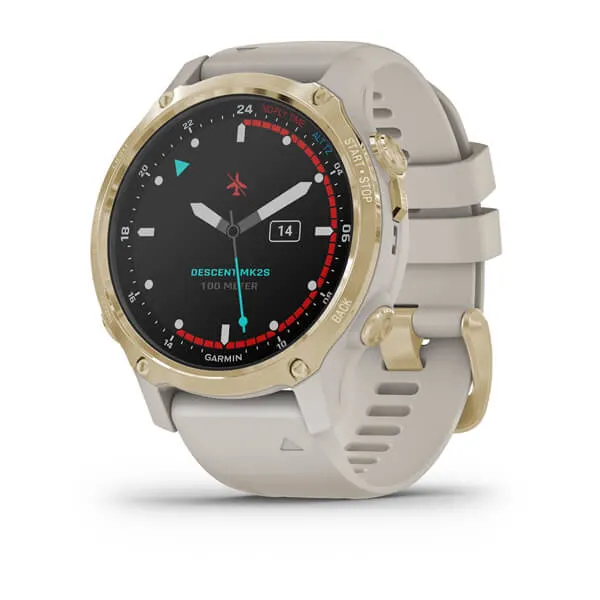 The Descent 2 carries a lot of options in a very small package. If you want something that looks like a wrist watch, but has the features of a technical diving computer, then look no further. If you wore this to a party no one would be able to look at it and guess that it is a dive computer, let alone a technical diving one. It is only when you scroll through the options that you will realize that it is a serious technical diving computer.
Garmin Descent Mk2S gives you options for a wide variety of dives. You can run it in gauge, apnea, apnea hunt, single gas, multiple gas with options for air, nitrox, trimix and 100 percent oxygen. It also comes in with a hefty memory, and can store data for 200 dives. It can even support CCR diving, but you will never be able to tell that just by looking. It will sit on your wrist, pretending to be a wrist watch!
Pros:
Elegance – it is slim and easy to wear and would look like an elegant wrist watch for almost all occasions
Diversity – Its small size does not come at the compromise of any fundamental features and you can find in it all kinds of diverse options from simple gauge and single tank dives to multiple gas selections and CCR options
Keep in mind that when it is on the surface, it is not just a dive computer that shows time, but is a smart watch. It has built in health monitoring features such as advanced sleep monitoring and connectivity with a number of health apps. The product has special value for female customers as it comes with menstrual tracking features and advanced pregnancy tracking.
Garmin Descent Mk2S is not just a dive computer that shows time on surface but an advanced smart watch that turns into a technical dive computer on your dives.
Cons:
Well, if you want to squeeze everything to look like a wrist watch then that is what you will have on your wrist during a dive. A wrist watch! It will lack the large, 'in your face" display screen of a Shearwater but the manufacturers have still done a decent job of making the relevant info presentable in the small display area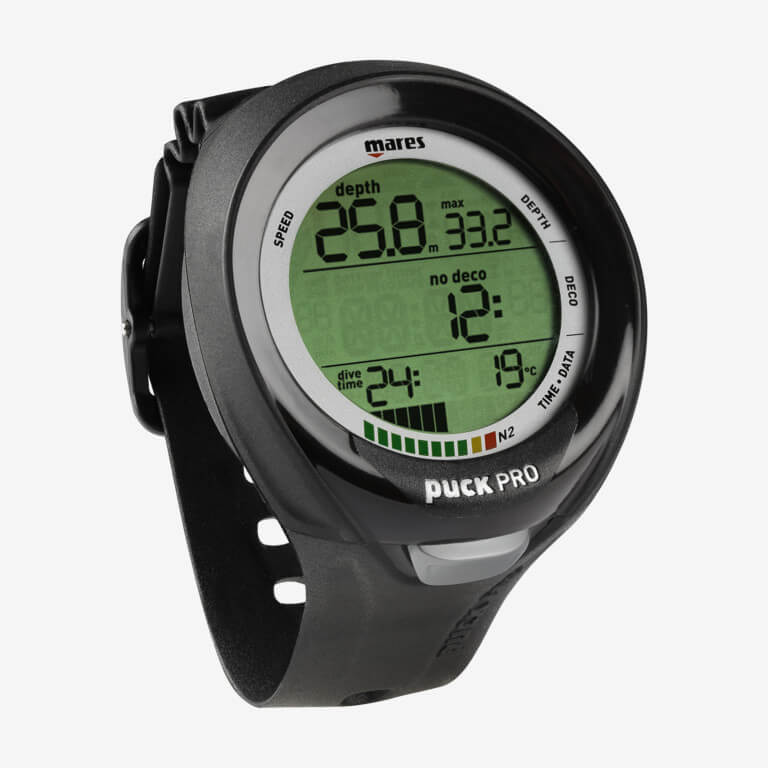 Why would a beginner need a dive computer different from an advanced user? Computers often involve task loading and beginning divers need something that is not going to engage too much of their energy. Beginner level dive computers are designed with a "jump and forget" mindset where if you wear them and jump, they will get you back to the boat.
The ideal computer in this category would be the Mares Puck Pro Plus computer. The Puck is a single button computer that developed a global reputation for pure simplicity. If you go to a resort anywhere in the world and rent a dive computer, chances are that you will be given a puck.
The reason for this is simple. It only has one button for all its features and, frankly, there are not a whole lot of them. You just jump and it takes over the dive for you in air mode. Since most new divers dive air, that is all they will need. Now this does not mean that the Puck does not have other modes like nitrox or bottom timer. You can even do a two gas dive on it with gas-switch but not as easily as some of the higher end computers.
Pros:
Simplicity – Imagine a new diver who is diving on air and just wants an instrument around her waist that will do the job. It would be hard to beat the Puck Pro Plus. Everything in it has been optimized to make that first dive easy
Besides prioritizing the convenience of the early diver, Mares has tried to keep things affordable here. This is one of the most affordable models out there
Cons:
This is a single button computer. The moment you start to do the more advanced dives with it, that one button starts to get annoying. Yes it is a convenience, if you are diving air but when you get into other modes such as nitrox and access functions like MOD settings etc. communicating with a single button may start to test patience in some users
Shearwater is known for making advanced level technical diving computers and wherever someone is doing extreme technical dives, chances are that they have a Shearwater with them. Peregrine is the Shearwater's simpler model, intended to be used by the recreational diver.
Serious technical diving computers are designed with the assumption that the user will be navigating the interface underwater during the dive and most often, during the gas switch, which is the most crucial part of the dive. Simple buttons and an easy to use interface is at the core of the design. Exactly the same philosophy has transferred to the Peregrine and users will be pleased to see a large display of 320 x 240 screen resolution and full color LED LCD.
Pros:
Ease of operation. There are no tiny buttons or the inconvenience that comes from navigating the menu with a single button. There are also no irrelevant features to clutter the menu like calorie counter, heart rate monitor or pregnancy tracker etc. Everything that you will get here is what you will need for the dive and that keeps it very simple
Furthermore, it has a logbook that will let you store over 200 hours worth of dives. Not bad
Cons:
There is no air integration in Peregrine, so if you are the kind who wants to integrate air readings, forget it. Secondly, it also does not have an inbuilt compass. They have tried to keep things minimal here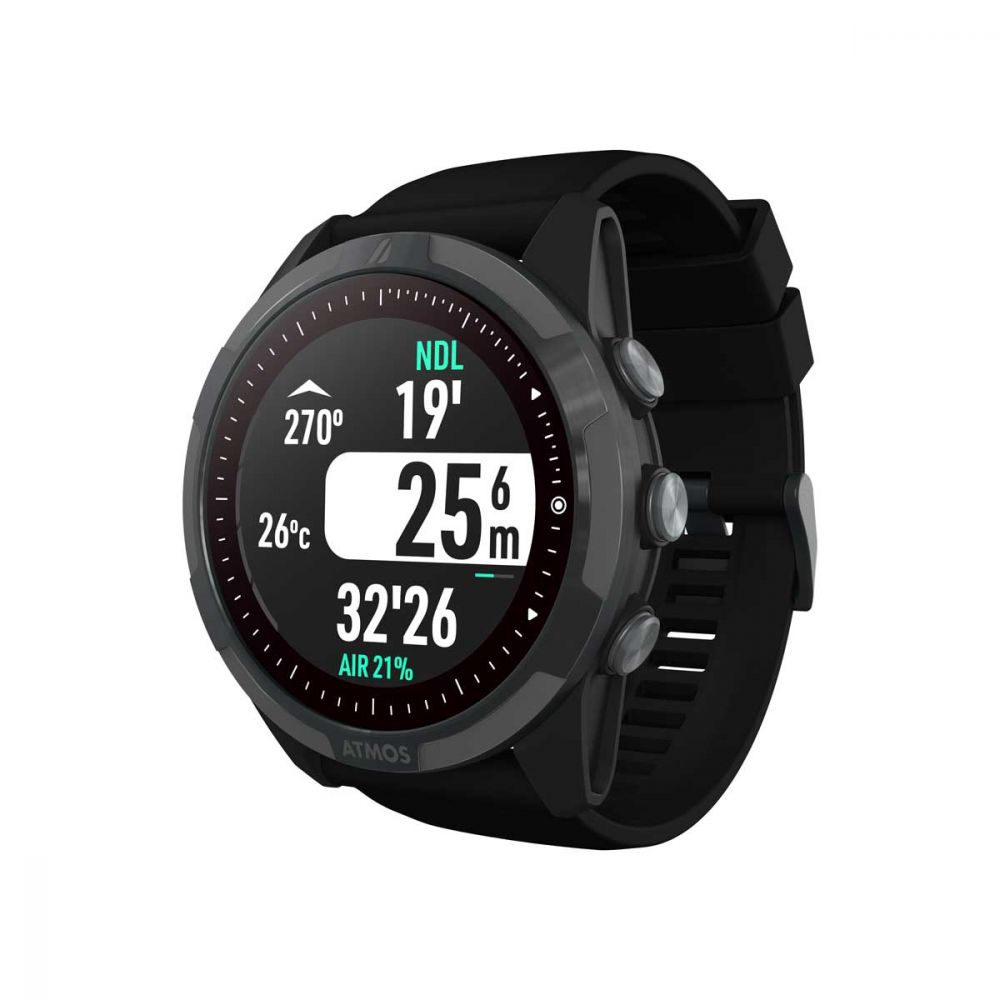 If you want a dive computer in a wrist watch that does not break your bank, then you may want to check this one out. Atmos Mission 2 looks like a typical wrist watch that can be worn to work, to parties and to social events and will never leap out as anything other than a watch. But make no mistake! The Mission 2 is a fully functional dive computer with air, nitrox, gauge and free-diving pool modes. Furthermore, it also comes with a GPS system that lets you mark a dive site when you surface. Neat isn't it?
But it does not stop there. On the surface, it will function as a multisport wrist watch that supports running, swimming, biking and skiing modes. Its non-diving related functions include monitoring your sleep and step counting and calories tracking.If you are a diver and a physically active and athletic person then this is not a bad thing to have on the wrist.
Pros:
The sleek and stylish Mission 2 has utility outside of diving. Not only will it function as an elegant looking wrist watch, but also support a variety of activities outside of diving. It does all of that while keeping everything within a tight budget
Cons:
When you try to put a smart watch and a dive computer in the same package, then you will have a dive computer that is cluttered with additional functions unrelated to diving and you have a dive watch with one extra function. Dedicated divers who want to use a dive computer for what it is, may miss the larger display area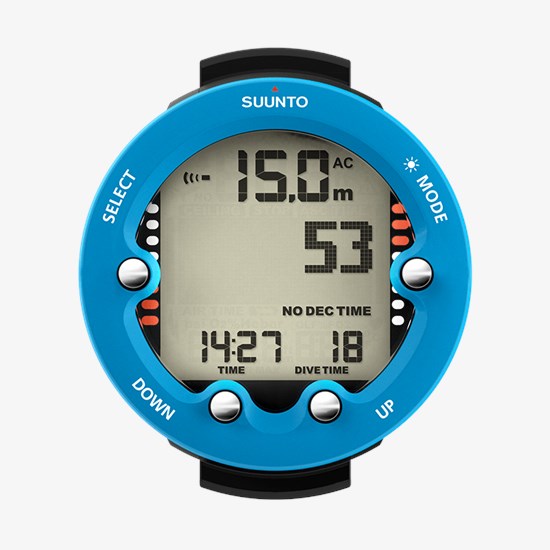 When it comes to entry level budget computers, one that remains worthy of mention is Suunto Zoop Novo. The Zoops are a popular model all around the world for their simplicity and ease of function and if you are looking to get a basic, entry level model, then the Zoops will definitely do the job.
Instead of a single button interface, the Zoop offers easier navigation through the menu using four buttons. You can dive it in air, nitrox, gauge and free modes and almost contains everything a new divers needs. As long as you are not expecting bells and whistles, and want a reliable budget friendly computer that will bring you back on the boat safely, then Zoop is definitely worth the mention.
Pros:
Affordability – You will not be breaking your bank with this one. Simplicity. It gets the job done
Cons:
Buttons – those small buttons are very hard to press with gloves on. It also lacks the bright, in-your-face displays of some of the higher end models
---
How to Choose the Best Dive Computer?
By the end of the day, all dive computers have one primary function. To ensure that divers leave the water with a level of nitrogen that will not be dangerous. Every single dive computer instrument will perform exactly the same function.
Wrist-Mounted or Console
One of your choices would be to either have a wrist mounted unit, or have a console fitted one. The latter attempts to combine a lot of instruments into a singular unit and then tries to keep it out of your way. The problem with this set-up is that it will be on your left side and that means that you will be forced to use your left hand for two purposes. Buoyancy management and computer access.
You must have seen a lot of new divers literally hanging from the ascent line while they do their stop. When you are using your right hand to hang, then your left is free to read that console. Now imagine there was no ascent line and you are holding a stop in a horizontal, trim position. The ideal place now to have that computer would be on your right wrist.
This will enable you to keep a constant eye on your numbers as you manage buoyancy with your left hand. When you sink, you inhale to hold depth and when you rise up, you exhale. Eyes on the digits and breathing to achieve precision, that fine tuning of buoyancy is only possible when you have your digits on a different hand than the one you are using for buoyancy control.
Air-Integration or Not
This is one of the most debated topics that has the diving community divided into two opposing camps. Do you want the computer to also display air in terms of time units or would you rather leave that to the old and trusted pressure gauge?
There are two ways your dive computer can read the air in your tank. One is through a high pressure hose that is connected to your computer. That means that your computer can no longer be carried on your wrist. It must be in a console and that brings us to all the disadvantages of not having a computer on your wrist. If you are doing precision diving and want the ability to hover perfectly still while looking at the depth gauge, then you would need the computer on your wrist.
In order to honor this need, hoseless transmitters have been developed. These can be attached to the tank and they will read and display the tank pressure on your wrist mounted computer. In the earlier days of air integration via transmitters, these were not as reliable, and divers, specially those doing serious dives, trusted the old school mechanical reliability of an SPG instead of an experimental gizmo.
As time went by, technology and reliability improved and now hoseless air integration is more common. But, is it as reliable as the mechanical SPG? That is where the difference of opinion lies.
One of the hallmarks of an advanced and experienced divers is that they do not leave their gas calculations to chance. They know their surface air consumption, their depth consumption, how much air they need to keep in reserve to bring an out of air diver to the surface without violating safe ascent rate and the turn pressure at which they should be terminating their dives.
At some point, you would want to be the diver who is trained to do these calculations before jumping in. At that level, the air integrated computer is not giving you anything that you have already not calculated on the surface without it. Then you may appreciate the reliability of a simple, mechanical SPG over a computer.
But, if you are the kind of guy or girl who jumps in first and then wonders how much their air would last at hundred feet and how much at seventy, then the spontaneous air projection via changing numbers may carry a certain "wow" value.
Think About Your Backup Computer
Imagine that you are on a liveaboard trip, in an exotic destination, miles away from a dive shop. The one thousand dollar dive computer that was your Bentley among the other Toyota corollas just malfunctioned! Oops!
Should you buy a single dive computer that is worth a thousand, or would you rather purchase two cheaper ones? A lot of times, people purchase an expensive primary and a cheaper back up. It is all fair and good until the primary fails and then they realize that they have not used the backup enough to be familiar with its settings!
The best way to go about it would be to make your first computer purchase a simple one.Once you have logged enough dives on it and become familiar, then go for your higher end model. There may be a learning curve to it and soon, you will become familiar with it. In case it ever fails, your backup computer is one you have used many times previously and is not stranger to you.
Conclusion
Your dive computer is one of the most important purchases in your kit. There are a lot of them out there, catering from beginner divers who want to have something basic and minimal to the techno-gadget addicts who want a computer during the dive and a sleep monitoring wrist watch when they go to bed with it.
Ultimately, the effectiveness of a dive computer should be gauged by its primary function and how effectively and easily it does that.