When it comes to diving equipment, ideal fit should always be a high priority. You can go to a social event with a jacket that is one size up, but if you go to a dive with a fin or a wetsuit that is loose, then it may turn out to be a very different experience than what you were hoping for.
When it comes to BCDs, a Hogarthian backplate and wing has many advantages over a recreational BCD and one of those is that it is a size-neutral set-up. The harness is continuous webbing that runs through the back plate. You can adjust the length of the webbing and it will fit almost all bodies perfectly.
Having said that, very few people learn to dive in that set-up and they want to do their initial diving in recreational BCDs in which they were trained. If you are a big guy or girl, then finding that BCD may prove to be a challenge.
In this article, we will look at a few BCDs I recommend for big guys.
Top 5 BCDs for Big Guys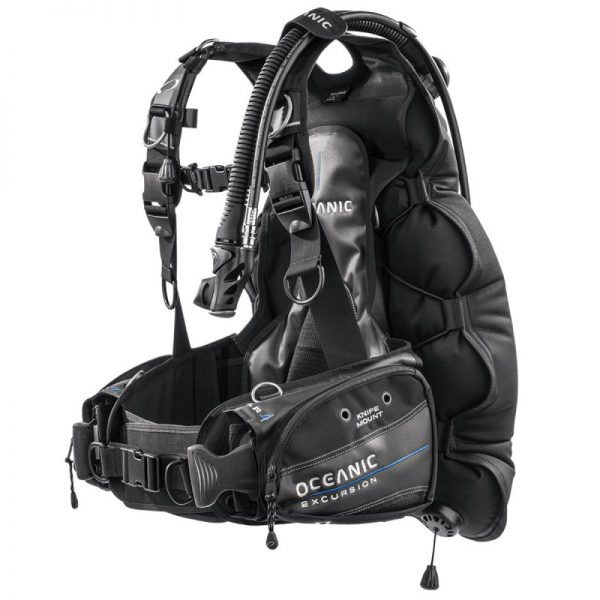 The Excursion is a seriously designed BCD that is popular with a lot of divemasters around the world. It is built of a heavy 1600 D nylon, which means that material wise it can take a beating better than a lot of others out there. The 2XL size on this one will fit a diver who is 6.5 and weighs 275 lbs.
So if you want to invest in a serious BCD, one that would hang in there with you for a lifetime of diving then Oceanic Excursion deserves a mention.
Pros:
Durability. Consider that a lot of the light, travel BCDs start with 210 denier fabric and most of the general purpose ones would use a fabric that is around 1000 D, the 1600 D fabric that is used has been chosen for long term durability and abuse
Cons:
These BCDs are sold with a warning that they contain a chemical known as Butadiene. In the state of California, this is linked to the cause of Cancer and other birth defects. There are some studies that have shown that workers exposed to this for a prolonged period of time, could have an increased risk of cancer, so while your exposure to this as a recreational diver may not be as much, it is something to keep in mind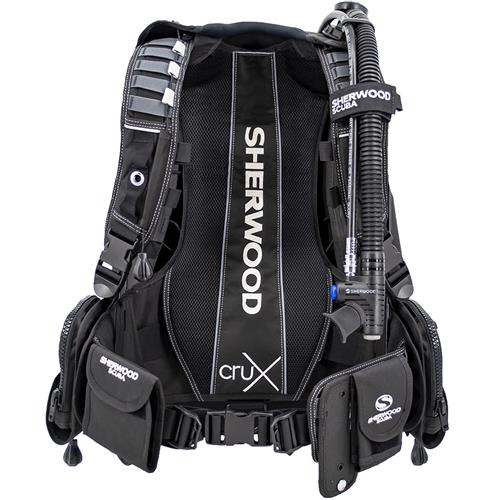 There is no 2XL size in this model as the largest size in a Sherwood Crux would be an XL. Yet this size is advertised for a bigger individual than what the Oceanic Excursion is meant to fit. While the 2 XL in an Oceanic Excursion is stated to fit a person of 6.5 in height and 275 lbs in weight, the Crux is advertised for a diver as tall as 7" and of 280 lbs.
Pros:
The design philosophy behind this model is that the diver should be able to add or subtract things to it based on their own diving needs. The shoulder straps are designed with a molle chain to offer multiple attachment locations for accessories. Padded neck line means that it will not dig into your neck even when you use it without a wetsuit
Cons:
Well, it is a back-inflate BCD and like all back-inflate designs, it will try to get you horizontal when inflated. This means that on the surface, it will be difficult to assume a vertical floating position with this as it will try to flatten you and push your face in the water. Experienced divers can manage its surface behavior but newly certified divers may need to get used to it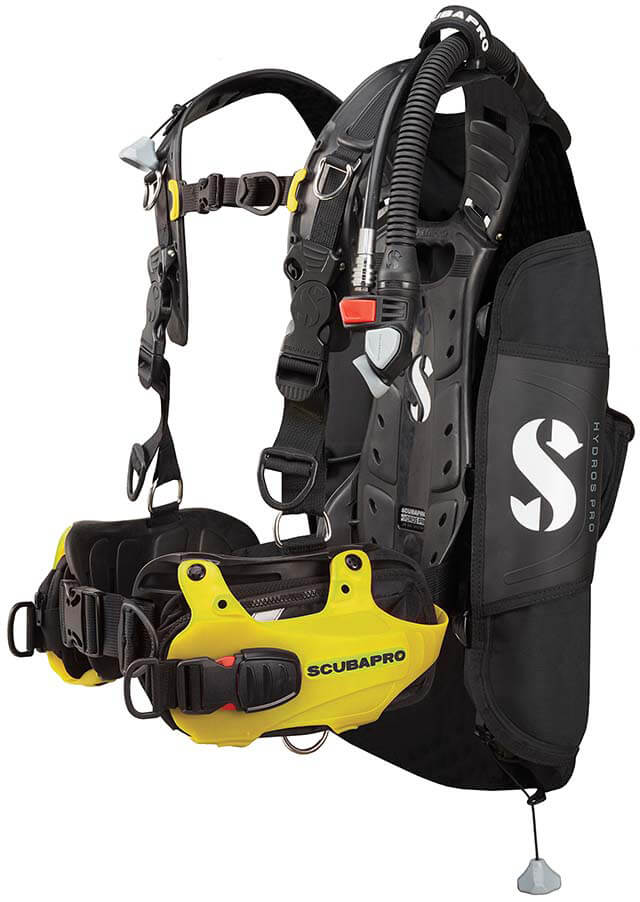 Hydros remains one of the most sought after back inflate BCDs in recreational diving. Its harness is made up of a soft, injection molded monprene gel that will bend and mold according to the shape of your body. This provides for a tighter fit which does not fit as restrictive as if it was achieved using other materials.
Pros:
Travel friendly – this is a lighter, easy to pack and easy to dry BCD that makes it well suited for travel
Cons:
It is a back inflate design and thus you will not float upright and high on the surface. Secondly, it is pricey. If you have a tight budget, then this may not be the one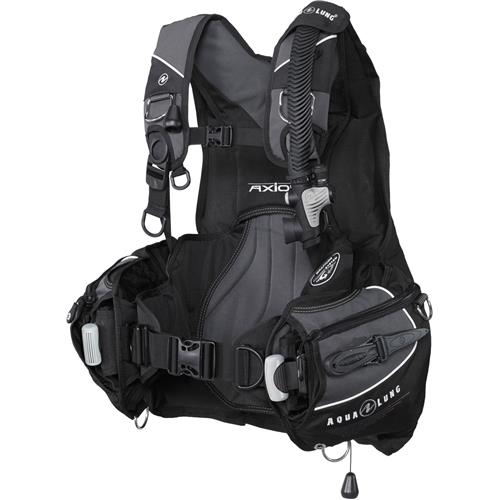 Axiom is a well conceived BCD that comes in a variety of sizes. The XX-Large in Axiom is meant to fit a person up to 6.5, weighing an approximate 270 lbs. This wrap-around BCD has a streamlined aircell and durability is ensured using a combination of 500D Amor Cordura & 1050D Ballistic Nylon.
Pros:
Simple design that does not bombard you with features. The weight release system is a single-pull release without any pinch clips. Inserting is A simple push-and-click and you are ready to dive.
Cons:
The Axiom does not have a cummerband. Instead it has a waist buckle. In many models, divers may be able to use a slightly looser BCD by tightening the cummerband to ensure stability at the waist area. In Axiom, ideal fit is more important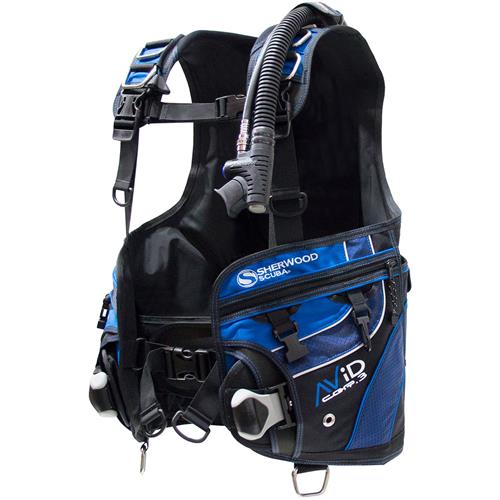 The Avid is a BCD that has been around for a while. Everytime, you add something to it or subtract from it, it stops being Avid and thus this model tends to stay. It is stitched out of a 1000 Denier nylon that is Urethane laminated. You get six stainless steel D rings that allow a lot of options for accessories and the CQR 3 weights system adds the ease of inserting and releasing weights.
The largest size in this BCD is a 3XL and it is advertised to fit a diver who is taller than 6.2 and heavier than 265 lbs. If you want a basic jacket style design that has been made with a high quality fabric and the D rings in the optimal place, then this is it.
Pros:
The price tag on it is quite reasonable. Special attention has been paid to the convenience of attaching secondary equipment such as lights, GoPro cameras etc.
Cons:
High quality materials and lots of stainless steel D rings means that it is not the lightest one in the market. The Avid can weigh almost 9 lbs in dry weight
---
How to Choose a Scuba Diving BCD if You Are a Big Person
Your priorities should not change drastically if you are a big guy. You still want something that is solid, reliable and fits well. There are a few things to keep in mind while you shop for a BCD.
There is no universal standardization of sizes when it comes to BCDs.
When you are buying a t-shirt, you know that it would be a large or XL etc. The size breakdowns in BCDs are often manufacturer dependent and sometimes, even style dependent as well.
Sherwood Avid is has a line up of six different sizes, whereas Sherwood Crux is available in only four. Now the XL in Crux is advertised to fit a person who can be 7' feet tall while the Avid is ideally intended for someone of 6.2 height but, depending on the body type, can accommodate a taller person.
Also read: Best BCDs for Beginners
Measurements are estimates only.
Remember that you are not buying a shirt or a blazer. It is very possible that two different BCDs who are advertised to fit the same measurements will fit very differently. While you can order a shirt online and expect it to fit, with BCDs it is best to try on a variety of models.
Choose functionality over design.
I get it. We all want to look cool. But remember that the moment you jump in the water, no one will care. Your dive buddies will have far more impressive things to notice under water than your BCD. This is why it is important to value fit and function over flash and style.
Conclusion
When you are neutrally buoyant, you are suspended in a weightless, zero gravity environment. How big you are, and how much you weigh, will not matter in a state of neutral buoyancy. The important thing is how you achieve that state of neutral buoyancy and that is why a discussion on buoyancy compensators becomes valid.
You may not have all the choices of an average sized individual but there is still a line up of very high quality products that are meant to fit people your size. If you do find yourself bigger than what the largest BCD size permits, it will be a good idea to use a backplate and wing.
Good luck!